Summer Programs for Children and Young Adults - updates for 2021 coming soon
Covid-19 Update:  Please check with the specific camps listed below for updated information as the situation changes and evolves
Please note: The only summer youth programs Woods Hole Sea Grant and Woods Hole Oceanographic Institution conduct are  STEAM Week and Girls in Science. As a resource, this page also lists other local organizations that offer summer programs for children and young adults. Please contact the individual programs directly for details on their offerings.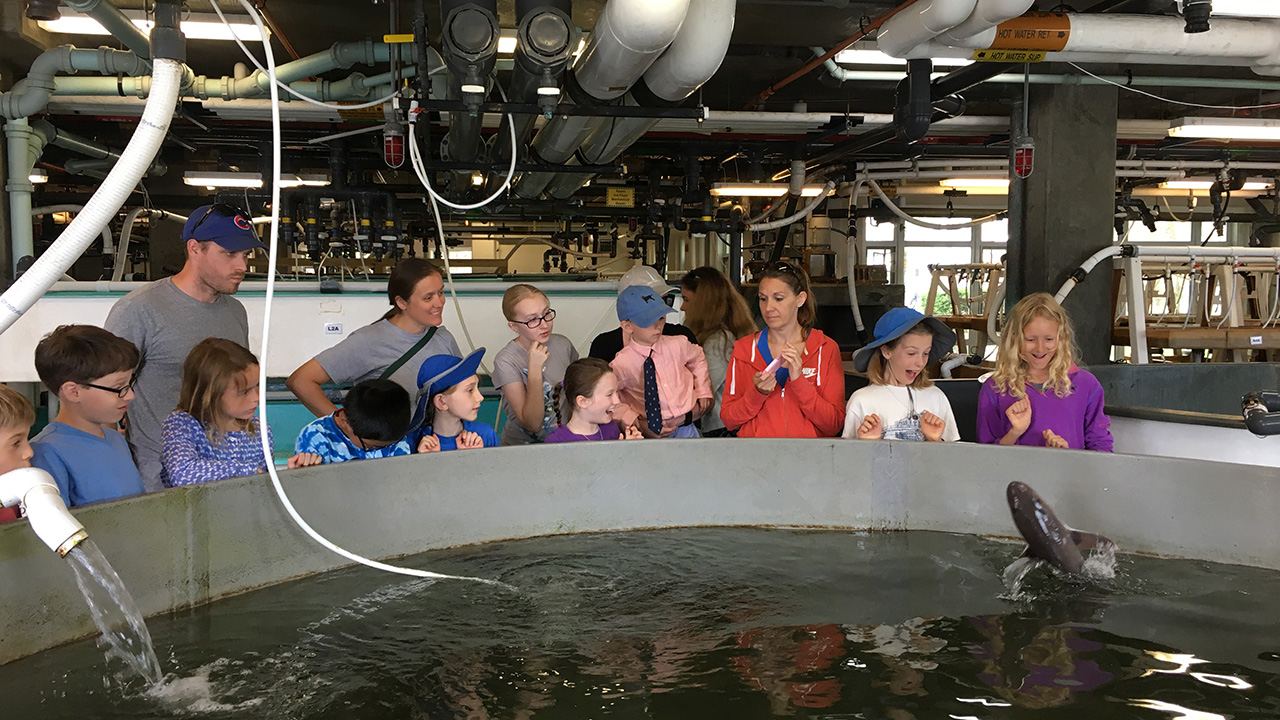 STEAM Week, Falmouth - 
Cancelled
This one-week program encourages children (age 9-12) to engage their curiosity and explore science, technology, art, music, and history with some of the Cape's most fascinating organizations: the Cape Conservatory, Falmouth Art Center, Falmouth Historical Society/Museums on the Green, Falmouth Public Schools, NOAA Northeast Fisheries Science Center, WHOI, Woods Hole Sea Grant, and Salt Pond Areas Bird Sanctuaries, Inc.  Guided by teachers and local experts, students will spend a day with each of five host organizations exploring Habitats: what living things need to survive and how that influences science, technology, art, music, history—every part of our daily existence.
Through special projects and adventures, students will discover how the concept of Habitats applies to environmental, artistic, and cultural spheres.
Monday, June 29th - Thursday, July 2nd / 9am  -1pm (Tuesday 9am - 5pm)
For more information and registration, please visit https://www.capeconservatory.org/course-details.asp?cid=33.
---
EarthWatch and Woods Hole Sea Grant are collaborating on a week-long Girls in Science fellowship in Woods Hole August 8-15, 2020.  As fellows, the 10 young women, current sophomores and juniors attending a high school in Massachusetts, will work with an all-female team of leading scientists to investigate marine mammal bioacoustics. Woods Hole Oceanographic Institution Research Specialist Laela Sayigh is the principal investigator working with the fellows to build hydrophones, analyze the sounds whales and dolphins make and spend time on the water collecting data. The fellowship aims to promote diversity and expose young women to a variety of marine careers in STEM.
Click here for more information and to apply
Contact: Grace Simpkins, gsimpkins@whoi.edu
---
Please note: The following local organizations offer summer programs for children and young adults. Please contact the individual programs directly for details on their offerings.
Children's School of Science, Woods Hole
The Children's School of Science encourages a love and appreciation of science through inquiry-based learning. Frequent field trips and hands-on classroom study provide the opportunity to explore nature, become adept at observation, and discover the rules that govern natural processes. Students benefit from the renowned scientific institutions in Woods Hole and the unique living classroom created by the complex biology and geology of Cape Cod.
The school's curriculum includes courses such as Seashore Life, Nature Photography, Entomology, Marine Biology, Oceanography, Biological Illustration, Embryology, Herpetology, and Botany. From year to year, other courses are offered which take advantage of the special qualifications of the teachers.
In general, the subjects of study arise from material collected on field trips to the varied habitats in the Woods Hole area. There are short, often daily, walking trips near the school, and one class period a week is usually devoted to a driving field trip. On returning from a field trip, students may set up, stock, and maintain aquaria and terraria with their collections. Films are developed in photography classes, and detailed observations of favorite invertebrates may be committed to paper.
They offer courses to students aged 7 to 16.
Classes fill early! For more information and registration, please visit: http://childrensschoolofscience.org/
Children's School of Science
P.O. Box 522
Woods Hole, MA 02543
(508) 548-3603
---
Falmouth Academy
Programs offer a space to build, create, think, design, explore, and play! Offered to all ages and interests in the arts, athletics, language, science & technology, sports, and outdoor adventure.
Some of the science & technology related programs include: Discover the Cape Cod Shoreline (ages 7-12), Electricity! (ages 7-12), Edible Landscapes: Identify and Sample (ages 7-12), Scratch your Programming Itch (ages 7-12), Intro to Watercolors with Painting Ocean Critters (ages 7-12), Dissecting the Ocean (ages 7-12), Natural History for Young Naturalists (ages 7-12), Math Games (ages 7-12), Higher Math Games for High School (ages 15-18), Outdoor Survival (ages 7-12), Adventures in Archaeology (ages 7-12), Math in the Environment: Counting Critters (ages 7-12), Marine Biology on Cape Cod (ages 10-14), and Robotics for the Engineering Mind (ages 10-14).   Programs are one-week sessions from late June through mid-August.
For more information and registration, please visit https://www.falmouthacademy.org/summer/welcome
Susan Moffat, Director of Summer Programs
Falmouth Academy
7 Highfield Drive
Falmouth, MA 02540
508-457-9696,ext. 307
Email: smoffat@falmouthacademy.org
---
Sea Education Association, Woods Hole
SEASCape | SEA Science on the Cape
This 3-week summer program at SEA offers current high school students, including graduating seniors, the opportunity to study the marine environment from a variety of perspectives: scientific, historical, literary, and nautical. Participants live and study at our campus in Woods Hole, Massachusetts. Academic programming is scheduled throughout each day, including on most weekend days. Coursework includes lectures, discussions, laboratory activities, and field trips; all introducing students to the study of oceanography, the history of humanity's relationship with the oceans, and modern maritime issues. Teamwork, leadership, and sense of community are the underlying values of SEA's academic curriculum. Participants not only grow as students, but as global citizens and individuals.  Session I:  June 29-July 17, Session II:  July 20-August 7.
For more information, please visit www.sea.edu/high_school_programs/seascape
SEA Expedition
SEA Expedition is a 2-week offshore summer program for rising high school sophomores, juniors, and seniors, as well as recent high school graduates. Centered on learning by doing, SEA Expedition is a multidisciplinary experience that welcomes students to participate in every aspect of a challenging offshore sailing and oceanographic expedition. SEA Expedition occurs entirely aboard the Sailing School Vessel (SSV) Corwith Cramer, one of two sailing research vessels operated by SEA.  Session 1:  July 12-24 sails from Woods Hole to Boston MA.  Session II: July 29-August 10 sails from Boston, MA to Portland, ME. 
For more information, please visit: www.sea.edu/high_school_programs/sea-expedition
Information about undergraduate summer programs can be found at: https://www.sea.edu/voyages/Summer/all-topics/all-terms/all-destinations
---
Waquoit Bay Summer Science School
A series of week-long learning adventures, Summer Science School at Waquoit Bay National Estuarine Research Reserve introduces kids and teens to coastal ecology while having fun and fostering new friendships.
Bayside Buddies – Half day sessions. Children entering grades 2-3 will get wet, muddy and inspired while exploring the habitats and wildlife around Waquoit Bay through games, crafts, and scientific investigations
Estuary Adventures – Full day sessions. Children entering grades 4-6 will explore Waquoit Bay Reserve using a variety of instruments, from hydrometers to projecting microscopes.  These young scientists will conduct investigations based on research projects in the Reserve, monitor groundwater, test water quality, observe wildlife, and learn to recognize human impacts on the bay.
STEM Adventures – Full day session. Children entering grades 6-8.  Students will design and create exciting take-home projects using the engineering design process in the classroom lab and in a variety of habitats nearby.  They will draw on science, technology, engineering, and math (STEM) skills to build, test, and redesign their projects.  They will learn about renewable energy and the many ways to capture and harness sun, wind, and water power.
Women in Science Program - Young women entering grades 7-9 will receive inspiration and support as they meet women scientists who will describe their career paths and projects. Students will conduct field research alongside WBNERR staff and visiting scientists, and use a variety of instruments and technologies to gather and record data from the marshes, fields, forests, and waters of Waquoit Bay Reserve. A highlight of this session will be the boat trip to Washburn Island and overnight on Reserve property, where the students will leave their cell phones behind as they explore local ecology and hike the trails.
Teen Program: TIDAL QUEST – Teens Investigating Diversity of Aquatic Life Students entering grades 9-12. Join a small team of students spending a week in the field while conducting environmental monitoring projects with Waquoit Bay Reserve scientists.  Students will discover the latest technologies used locally to study climate change and sea level rise, monitor wildlife and examine plant communities, and look for ways to solve environmental issues while socializing with other teens and developing questions to investigate.
For additional information is available at http://waquoitbayreserve.org/education-programs/science-school/.
Contact: (508) 289-1850 or e-mail waquoitbayscienceschool@gmail.com.
Co-Sponsored by the Waquoit Bay Reserve and the Waquoit Bay Reserve Foundation